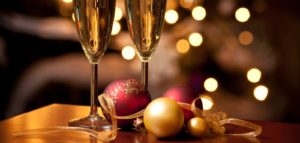 December 12, 2017  – Annual Holiday Party!
Join the AFWA Seattle Chapter for an evening of networking, food and holiday fun!
Featuring a gift drive to benefit a family in need through Ryther, plus a special White Elephant Gift Exchange and dinner with friends.
Bring a guest for a chance to enter a special raffle!
Ryther Gifts
: As we have for many years, we will be collecting gifts to donate to a family in need for Ryther Center for Children and Youth in need. We will be gathering gifts for a small family with twins. Email president@seattleafwa.org for a list of items that you can purchase and bring to the holiday party for this family. Ryther is a recognized leader in behavioral health services for children and their families facing complex challenges.  For more info about Ryther: 
www.ryther.org
.
White Elephant Gift Exchange: we will have a "white elephant" gift exchange.  We encourage re-gifting.  Bring something you received as a gift in the past that doesn't fit your style or you've grown tired of.  Wrap it up and we will throw it in the mix!  If you still cherish each and every gift you've received during your life, then you are excused from bringing a gift!
Make Your Reservations Here.   (Reservations are due no later than noon on Saturday, Dec. 9th)
Agenda:
6:00-6:30 pm – Social/Networking and Wine!
6:30-7:30 pm – Dinner and Announcements
7:15-8:15 pm – White Elephant Gift Exchange
8:15 pm – Guest Raffle and Prizes!
Menu:
TBD
Rainier Golf and Country Club 11133 Des Moines Memorial Drive South Seattle, WA  98168   (206) 242-4460*
Cost: Regular & Affiliate Members:  $28.00  Standing Reservations: $27.00 Guests: $30.00  Student Members: $10.00  Student Guests: $15.00   Coffee/Program Only: $10.00.
Reservations and payments can be made online through our Reservation Form (using our secure Formstack account).  Deadline for reservations is noon on the Saturday prior to the dinner meeting in order to guarantee a meal.  Reservations must be cancelled by noon the Monday before the meeting.  No-shows and late cancellations will be billed.  Walk-ins are welcome but with no meal availability guarantee.
*Please note that the Rainier Golf and Country Club has a "no jeans" rule. Parking is free.  More information can be found by clicking here, including suggestions on traveling by bus